Which Type of Stylus are you looking at?
A stylus or a stylus pen is an object shaped like a pen, used to draw, point, sign, and swipe on touchscreen electronic devices. Stylus are commonly used for smartphones, tablets and touchscreen laptops.
There are currently two types of stylus in the market, the "active" or the "passive", also known as capacitive. The active stylus has a pen-like tip with internal electronic components. Features of this stylus include electronic erasers, memory and pressure sensitivity, allowing heavier or lighter lines depending on the amount of pressure applied. The palm rejection feature also allows you to rest your palm on the screen without causing an interference to your work. The passive/capacitive stylus is much simpler, there is no communication between the stylus and the device. It only conducts electrical charges, behaving the same way a finger would on a screen.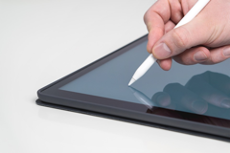 Why use a stylus?
The stylus pen is designed to simplify operating your touchscreen devices. They are easy to handle like a regular ball point pen with a flexible and tiny tip, smaller than the surface area of your finger, vastly improving accuracy.
Anyone can use a stylus to increase the usability of their various touchscreen devices, however these few people in particular would benefit the most from adding a stylus to their lives. Students, educators, artists, designers, people that work with mainly online documents and even gamers, the list goes on. If you fall into one of those categories, this article could be advantageous to you.
Benefits of using a Stylus
When we use our fingers to navigate touchscreen devices, the screens will be left with oily stains and smudges from the natural oils produced by our fingertips. Using a stylus is much cleaner, leaving your screen clear and smudge free.
A stylus will allow you to have control and precision over your touchscreen devices. Especially those with larger fingers or operating smaller devices such as a smart watch or smartphone. If you are in a cold country, you will still be able to use your devices with a stylus without taking off your gloves. For gamers, using a stylus will let you have more control and a better overview of the game. Designers and artists will feel like they are holding a real brush of a pen when working with a stylus. Having a stylus for work purposes will also seem more professional, such as getting a client's e-signature.
As a student, education has become highly digitised. Schools send out lecture notes through online portals, where students will either print out and physically take down notes with a pen, or download the document and type out notes on powerpoint slides or word documents. Although some may argue that physically writing down notes will help with memorisation, it is tedious and much slower than using technology. Hand written notes tend to be illegible and unorganised, depending on the speed and teaching style of the lecturer. Paper notes are also very messy where students with multiple subjects may end up with stacks of notes that can be lost or damaged easily. Switching to electronic note taking is not only environmentally friendly and more organized, it also increases the efficiency of taking down notes.
If you are one of those students that are already practicing electronic note taking with your laptop or tablet, you will definitely face some difficulty, especially with subjects that involve complicated mathematical equations, graphs, charts, diagrams, mind maps or basically anything that requires you to draw. A stylus will be extremely useful in this situation as it helps you take notes efficiently, even if the teacher or presentor is going fast.
With the aid of advanced technologies, most submissions have been switched from written or printed paper to online submissions. This helps educators with collation and clear organisation of student's work, as well as an ease in plagiarism checks. However, educators have to grade the projects, essays and exams electronically, which may be more challenging than expected. Using a stylus will aid educators in easily adding remarks for students and circling out the areas to take note of. Using a stylus as a writing instrument during lesson time will also help educators impart knowledge efficiently as there would be no need to constantly switch from lecture slides to a projector or white board just to visualise simple diagrams. Students will learn better as visuals drawn during lesson time can be easily disseminated online from the educator to the students, ensuring that students will have the most accurate information. Research and feedback from teachers have shown that education through surface (touchscreen) devices incorporated a wider range of learning experiences from visuals and kinaesthetic approaches.
If you are looking to get a stylus, here is a compiled list of the 5 best stylus for you!
5 Best Stylus to Use on Touch Screen Laptops
If you are a beginner to using a stylus and are looking for something simple, the Bargains Depot Pen could be the one for you. It works as a passive stylus that is inexpensive and compatible with all touchscreen devices. The stylus comes with two tip sizes, 0.18" and 0.24" allows accuracy in writing and the stainless steel aluminum body weighing 0.3 ounces, measuring 5.5 x 0.35 x 0.35 inches, gives it the feeling of a real pen. The package comes with two stylus pens and 10 extra replacement tips, just in case they wear out. Currently retailing on Amazon at USD$6.99. What a steal for an introductory stylus!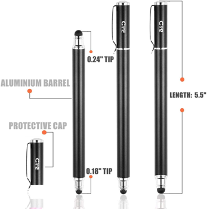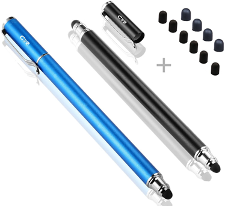 The Adonit Pro 4 stylus works as a passive stylus that is great for precision writing and sketching. Weighing at 22grams with a 9.25mm aluminium body, it is designed to look and feel like a sleek pen. The soft touch precision disc at the tip of the stylus is designed to be scratch resistant to your screens. For accuracy, the disc is transparent to ensure that your view will not be blocked while writing or drawing. A streamline pen clip allows you to hook it to your book or bag, the copper cap also ensures the stylus rubber tip will be well protected at all times. The stylus comes in black, silver or gold color. It is currently retailing on Amazon at US$29.99.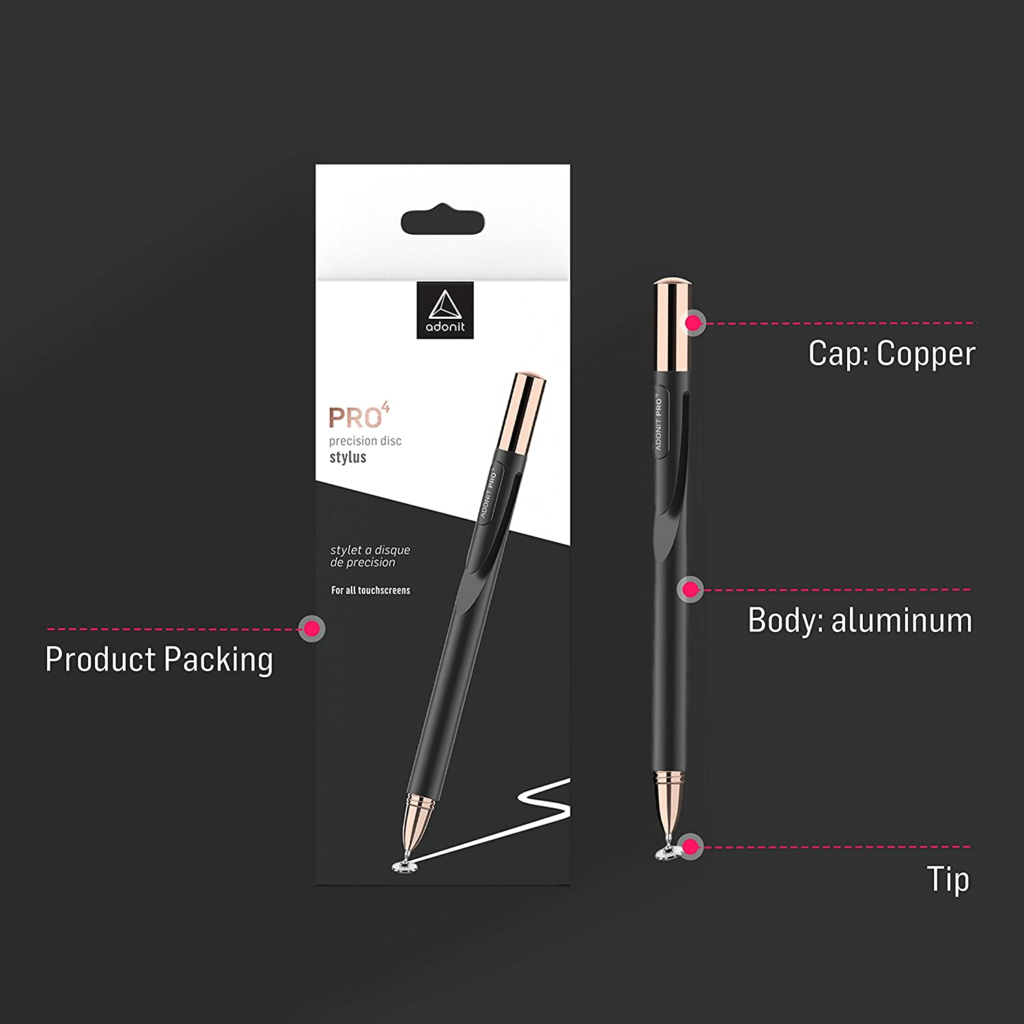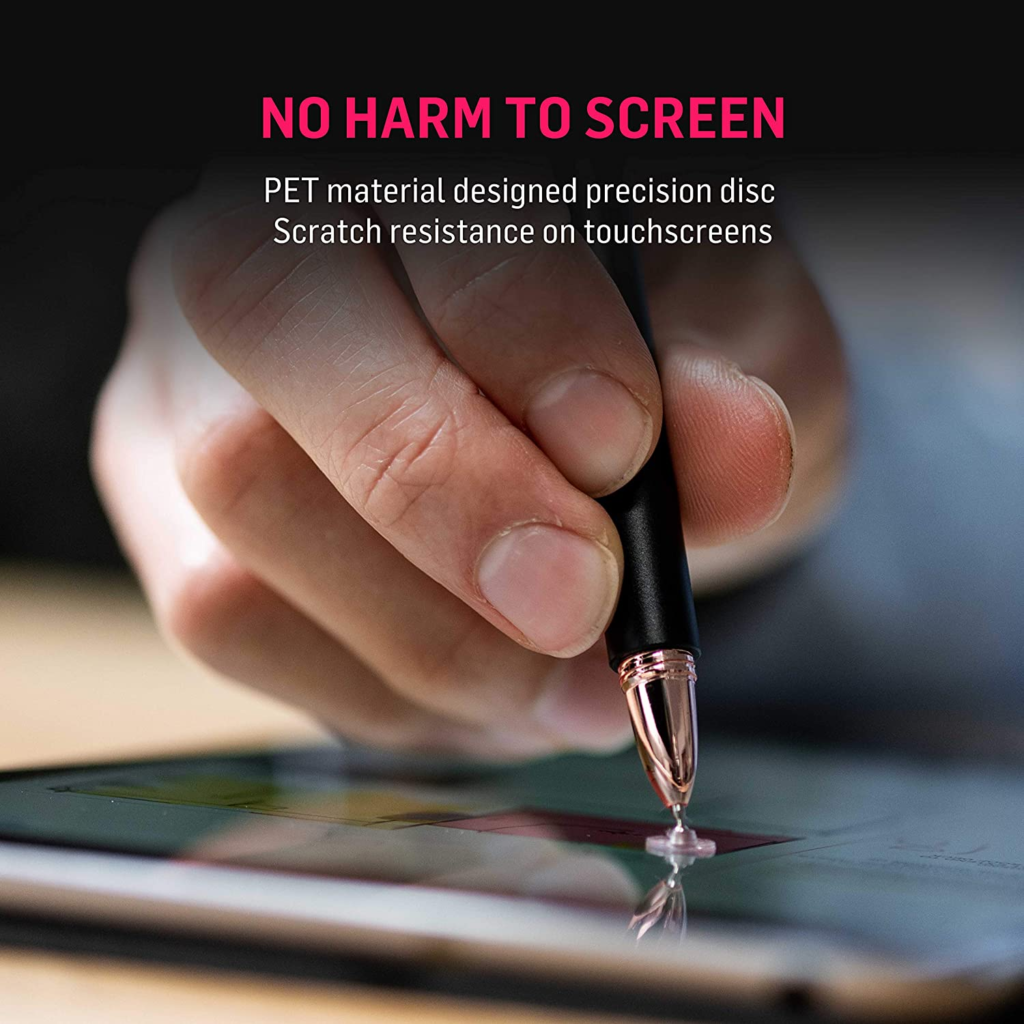 3. Mikicat Active Stylus
The Mikicat Active Stylus is perfect if you are looking for an active stylus but you are on a budget. It is compatible with most touchscreen smartphones and tablets and it has a one-button operation function which does not require any USB or bluetooth connection to your devices. The Mikicat Active Stylus has a Precise Point Control feature that allows the stylus to be sensitive to pressure and tilt for line weight and subtle shading. The fine 1.5mm tip provides a precise and realistic feeling when writing. The tip is made of an irreplaceable copper instead of rubber, for a longer lasting durability with internal elastic design to buffer the strength of a click. It has an in-built 30 minute automatic power off function if the stylus is inactive which will help to conserve the battery, however the battery life can only last for up to 10 hours. The Mikicat Active Stylus is being sold on Amazon for an affordable US$19.99 in white, black, silver and red design.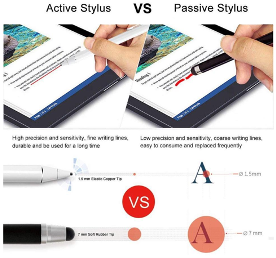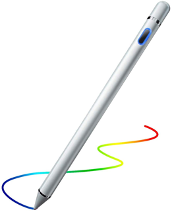 If you are looking for a professional stylus, the Walcom Bamboo Ink Plus Stylus is a great active stylus with many features that will bring your creativity to the next level. The Wacom Bamboo Ink Plus Stylus has a wide range of compatible devices and it is also easy to use. The stylus connects via bluetooth to your device, by pressing the bluetooth button, it will automatically launch your Windows Ink Workspace application.
The fine and sensitive tip is designed to make every stroke look authentic and effortless, ideal for sketching and drawing. The stylus has a natural tilt support and light touch responsiveness feature to detect the way it's held and translate accurate strokes onto the screen. Other than having three different types of replaceable nib tips to work with, a three hour charge on its USB-C port can last you for 10 days! It is retailing for US$99.95 on Amazon.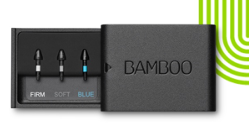 As iPads seem to be the leading choice of tablets for schools and students, the Apple Pencil is in our top picks as well. Educators and students with iPads should consider purchasing the Apple Pencil as a stylus due to its unique and specific design suited to iPad users. Commonly known as the stylus that isn't a stylus, the Apple Pencil could be the most accurate stylus on the market. Its combination of bluetooth wireless technology and sensors in the iPad allows the Pencil to draw accurately on the screen based on the changes in pressure and angle of the stylus. 15 short seconds of charging the Apple Pencil will give you 30 minutes of usage time, lasing up to 12 hours after a full charge. One of its features include a predictive algorithm where the iPad will guess where the Pencil is at and where it is going, making it an active and responsive stylus. There is also an in-build double tap function that allows you to change tools while you are working. The main limitation is the lack of compatibility with non iOS products and applications not available on the App Store. Depending on the model of your iPad, you may purchase the 1st generation Apple Pencil at S$138 or the 2nd generation Apple Pencil at S$189 from your nearest Apple Store.


Alternative to Purchasing a Stylus
Writing on your touch screen laptop with a stylus and your arm hanging in the air can be quite tiring if you have to stay at it for a prolonged period of time. Here we have a great solution for this – using Heyhi. Heyhi at its core has features such as video conferencing and an interactive whiteboard for discussion. But the beauty lies here, where you can transform your smartphone or tablet into a writing pad using your fingers as the stylus! Writing on your smartphone using your fingers is definitely much easier than hovering your arm writing on your laptop screen. Instantly whatever you write or scribble on your smartphone gets onto the laptop screen for everyone to view. This is how it works:

HeyHi's Interactive Whiteboard
If you have chosen to get a stylus, here is how we can help to make learning and work easier through your devices. HeyHi is both usable on a web browser and available on both GooglePlay and the App Store – built specifically for collaborative work and learning. The HeyHi app is especially useful for educators and students with its video, screen sharing and interactive whiteboard feature. With this feature, education can expand beyond just a classroom and be taken to a whole new digital level.
Here are some useful function of HeyHi :
A digital HeyHi classroom can take up to 50 video call participants with an automated attendance check. The fully interactive whiteboard allows you to draw and write on the screen with unlimited writing space and multiple screens for all other participants to see. Instant messaging and live poll features are available for a more interactive and engaging session. You can also upload your own library of content and materials for ease of use.
The best part is, the application is also available on any smartphone mobile device, allowing you to learn anywhere and anytime! For students that are tight on budget, this is the best bet for you. There is no need to purchase an expensive tablet or a fancy stylus as all you need is your smartphone and the HeyHi app! You can participate in the interactive whiteboard sessions by turning your phone into a writing pad and using your finger as a stylus. Do you want more good news? This platform is exclusively FREE to students and educators!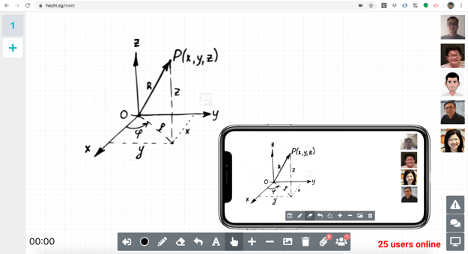 If you are unsure of how to use the app, here is an easy step-by-step tutorial.
You can request for a free demo to get a better understanding of how useful the app is, or sign-up and try it out for yourself. If you are keen to experiment with your school, do contact us and we will walk you through our software.