Working from home can be really relieving, with everything being done in the comfort of your own home and flexibility of wearing your home clothes the whole day. But as an educator, it can be really stressful when the shift to a new learning style, i.e home-based learning is put in place, and you have the added pressure of making sure your students do not lose out on their education. You might be considering trying out teaching via a video-conferencing app, as it is essentially the closest thing you can get to teaching in real life. Lucky for us, with today's technology, video-conferencing has been made much easier, even more so with the abundance of softwares and apps made available online.
When it comes to which ones to choose, names like Skype and Zoom come into mind. While they are great, there are recent privacy concerns for both Zoom and Skype, and you might be wanting to consider some alternatives.
Don't worry, we got you covered! We have compiled these 5 alternative video-conferencing apps for your PC or Mac for you to consider switching to:
Google Hangouts
Cisco Webex
Jitsi Meet
Microsoft Teams
Heyhi
Keep reading to find out more!
Google, a leading platform is well-known for a numerous number of features, but not many are familiar with google's feature of video-calling multiple people. Google Hangouts, a replacement to Google Talk, is a platform where you can start conversations with individuals, groups or even your entire 'Circle'.
The useful features of Google Hangouts include:
As you chat, you are also able to embed emojis or attach photos.
With just a tap, you can switch from a conversation to a video call.
This application works in sync with other Google applications and also comes as a chrome extension, thus making it convenient to use. So, it works really well as a video-conferencing tool especially if you already are a pre-existing user of their applications.
It also makes it convenient that the app is compatible across multiple computing devices.
The reviews emphasize on the simplicity and the convenience of the software.
Some of the weak points to take note of:
You are only able to video call up to 10 people if you are using the free plan, but Google Hangouts can also accommodate up to 150 people on voice call. If you are an educator who plans to video-call students for lessons, it might be difficult if your class size is bigger than what can be accomodated.
Another downfall might be that it requires every participant to have a Google account to be able to participate in.
Overall, if you want a simple and convenient app to schedule a video conference that is small enough, this is a good platform to consider.
Founded in 1996, this veteran software offers a platform with integrated audio, video and content sharing.
The pros of using Cisco Webex include:
Cisco has a generous free plan allowing up to 100 participants for meetings of unlimited time limit, and it also offers a variety of paid premium plans depending on the size of your business, albeit being a little pricey.
Reviews have mentioned how easy it is to join a meeting and the overall user-friendly interface this video-conferencing platform has.
All meetings on this platform can be recorded and shared for people to refer to in the future, and you can access it using PC and mobile.
A feature to take note is the ability of maximum collaboration through the 'Training Centre' option on the platform.
There is also a feature called 'Events' that allows users to actually host meetings up to a whopping 3000 attendees, something unique to Webex.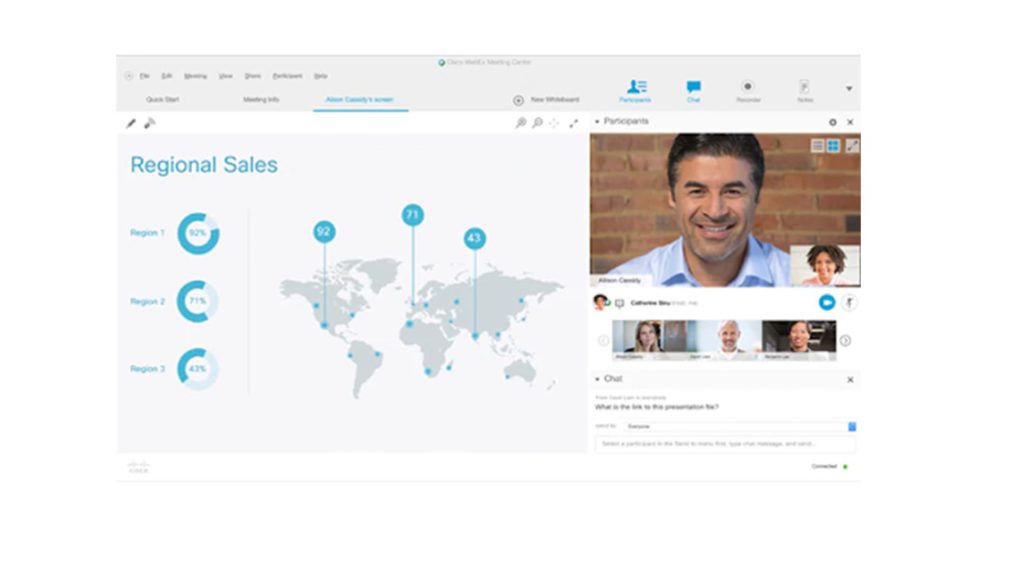 You can watch a demo of this video-calling app right here: https://www.youtube.com/watch?v=N4Z6bW7rLTw.
Limitations that coming with using Cisco Webex are:
While it is easy to screenshare, a perk for collaborative work, it might be a little difficult for document sharing through the medium, something to keep in mind should you try this out.
The free plan also prohibits you from assigning different hosts.
Another disadvantage can be the price-point of the software. It might be too pricey as compared to other platforms that offer similar benefits at a much lower cost.
All in all, with the array of features available, you might want to give it a try, but it would be more useful if you are trying to accommodate a very large group of people.
As advertised on its website, this is a completely free video-conferencing platform that is fully encrypted and 100% open-sourced. All you need to do is go to their website, start a call, and send the link to whoever you want to include in your call. It is as simple as that.
Features include
Screensharing
Custom URL links for the call
Chat functions
Etherpad where you can edit documents together
It is also available on the Apple store and Google Playstore if you want to download it on your mobile devices, but on the PC, you do not need an app and you do not need to create an account, making it incredibly convenient.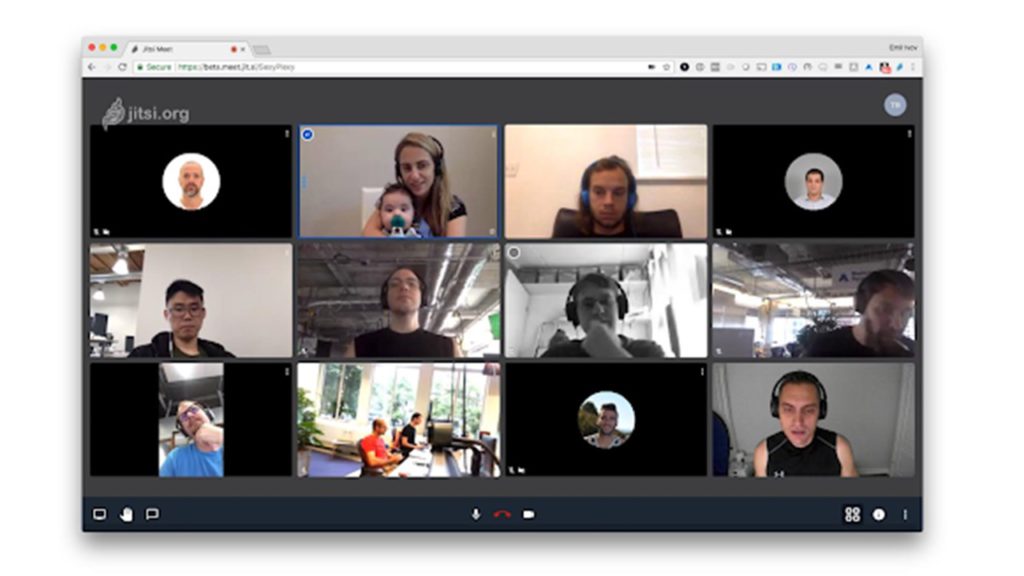 One thing that really stands out in Jitsi is its enhanced privacy and security, which is something that is really important with cyber crimes related to video-conferencing apps being on rise in the recent weeks.
Currently the server cannot support more than 75 people in the meeting and many users have said that they have run into bottlenecks with participants more than 30, so while this is a great idea for smaller group meetings, it may not be as suitable for meetings with a larger number of participants.
If you or your organization has a Microsoft account, this shouldn't be something new to you. Launched in late 2016, Microsoft's flagship collaboration and communication hub, Microsoft Team is said to be built to support the emerging popularity of communication and collaboration products within a world where telecommuting is becoming common.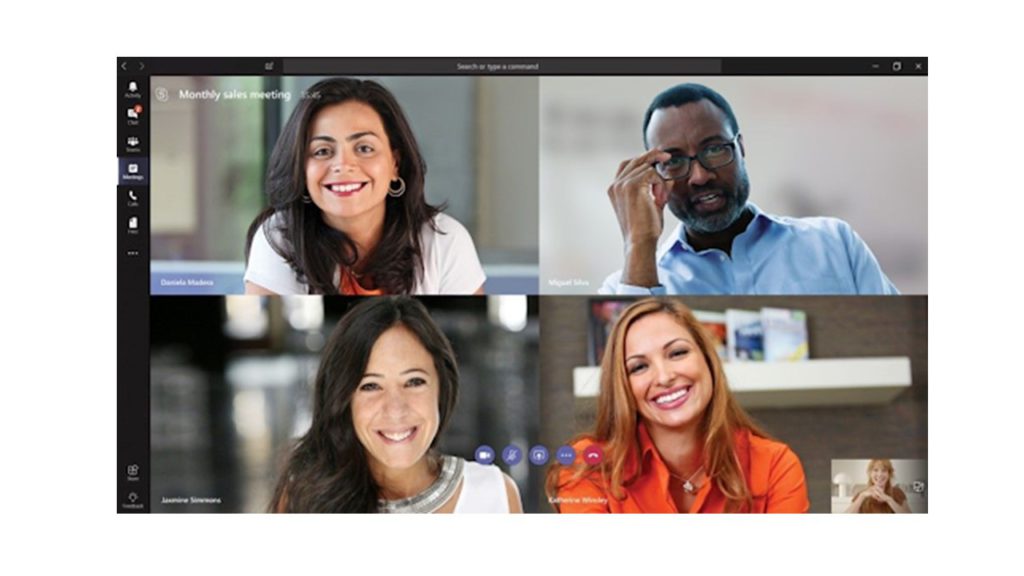 Some of the pros are:
Educators and students actually have Microsoft Teams for free, as it is included in the Office 365 package and you can make full use of the features.
These include both video and voice conferencing, file and document sharing, real time chat history across devices, and in-field scheduling support.
Here is how it works: https://www.youtube.com/watch?v=jugBQqE_2sM
As integrated it is, critics have claimed that the interface may not be as user-friendly and there is a bit of a learning curve involved when familiarising yourself with the software. The platform is really useful in terms of organisational help due to the abundance of functions present, but it really boils down to whether it is actually necessary if you are an educator and whether this is the best software to interact with your students.
HeyHi is an app with video, screensharing and interactive whiteboard. Get connected, learn or collaborate wherever you are with us, especially if you are a teacher giving lessons ( https://www.youtube.com/watch?v=D3KFm41FDgY) to your students.
Telecommuting would be a breeze with Heyhi, for numerous reasons. First, our app is really simple and easy to use. If you are hosting the call, be it a small classroom, or a huge lecture, only you need to have the account. The rest of the participants can join your video call easily via the link created just for it, and they don't even have to sign up or anything!
Secondly, with our interactive whiteboard, you can explain your ideas in real time! This is a special feature that you can only find with Heyhi among others in this article. What's more, you can even turn your device into a writing pad (https://www.youtube.com/watch?v=JiY8ruEtnOo&feature=emb_title) just by scanning the QR code present in the video call via the Heyhi app on your device. This makes it so much easier to write down and brainstorm during your meetings or lessons. It really feels as though you are actually writing on the board, as how you would in during your lessons in real life. This makes it pretty useful as a communication tool between your students as the interactivity can still be there digitally.
Other features include document sharing, chat group messaging, setting up polls within that chat group and more.
At the moment we are not able to record a session, but it is still in the works so do stay tuned for the update!
There is a lot more we would love to share about our app, but we rather let it speak for itself by getting you to give it a try! Curious to find out more? Sign up for free now, or you can even request for a demo here! For more information and tips, feel free to browse through our blog.
Conclusion
All these platforms have different benefits and different things to consider when it comes to choosing what is best for you. With the abundance of choice out there, it is important that you make the right choice, depending on how you want to conduct your lessons, and what is best for your students. However, if you are choosing an effective tool to raise productivity and interactivity during this 'work-from-home' period that the world is facing, Heyhi is definitely a really useful video-conferencing app for you and also in terms of affordability. At the moment we are providing all educators and students free use of our platform as we believe that students shouldn't have to spend extra money to learn, especially in a time like this. So check us out!