In our digital-centred society, we are well rounded with using of technology for our learning. Wacom certainly entices students who struggle with drawing or writing using the conventional mouse, by presenting them with a stylus and tablet, stimulating pen and paper. We have curated 6 Avenues to Buy Wacom Tablets in Singapore, so you can stop your endless hunt. Stick around until the end if you want to hear more about an even better option that will revolutionise your creative career.
What is a Wacom tablet?
It is a graphic tablet or pen tablet which the name suggests, using a pen and a tablet, you are able to create depth and dimension to your project. Fusing technology with designs, to create that digital masterpiece. For just a few features, it is really well known that Wacom provides great assistance to those who uses it for their first time dabbling in art or on your endeavours to creating that polished content as an accomplished commercial artist. One of their highlights would be the pressure-sensitive pen tip – it determines how thick or thin a line should be and it can instantly capture handwritten notations. Wacom has many different tablet models, all of which include their own novel features that are all appealing to anyone who is keen in searching for a tablet to fulfil that hobby or work.
6 Avenues to Buy Wacom Tablets in Singapore :
Wacom E-Store
Shopee
iPrice
Lazada
Carousell
Hachi.Tech
They claim to be the quality service that you can count on, they provide a range of products that screams "splurge on me" like pen computers, pen displays, pen tablets, smart pads (to protect or display the tablet) and stylus.
One downside to using this e-store is that the products seem to run out of stock often, especially with the price cuts. You can also say it is because it so widely sought out for, hence, the lack of supply.
The e-store keeps up to date and attracts customers by having promotions, no matter the occasion, great for the Singaporean soul.
If all these promotional sales don't catch your eye, they do have special offers for you to purchase their refurbished products at an insanely cheaper price. This lower cost method of trying out their product is also credible as the products are tested and certified by the Wacom team. Additionally, you can get it with a one year warranty. It is to be pointed out that this is widely available overseas but not in Singapore.
Contact them at their support team here. They also provide updates on relevant events on their Twitter, Facebook and Youtube.

Shopee is the leading e-commerce platform in Southeast Asia and Taiwan. It is a platform tailored for the region, providing customers with an easy, secure and fast online shopping experience through strong payment and logistical support. They have an abundance of categories for you to shop from, be it clothing for all gender and age, technological devices, food for yourself or your pet, automotive and miscellaneous items.
When you search for Wacom tablets on Shopee, it does not come as a shock as you can purchase it at an arguably cheaper price as well due to the numerous sales, cashbacks and free shipping deals.

With the convenience and variety that Internet can offer consumers, they are vulnerable to risks, anxiety and drawbacks related to online shopping. The traditional mindsets of shoppers believe that what is offered in online shopping may not be what they may get due to the feeling of trust, security and privacy concerns attached to the 'touch-feel-hear' experience. In addition, problems with online grievance redressal and complaint follow-ups may arise due to incorrect or delayed deliveries or receival of defective items, leading to negative perception towards the whole process of online shopping. Consumer anxiety is just one of the negative consequences of having a large assortment of choices to choose from.
Shopee has a downloadable app on Google Play and Apply Store making it available to all, simply scan the QR code to get it.
You can also follow them on Facebook, Instagram or LinkedIn. They have a help centre to answer your every whim, or alternatively you can reach them by filling in a form for any enquiries.
iPrice promises to offer shoppers the widest selection of products and brands, provided by hundreds of partners in Southeast Asia – all made available on one shopping website. Users no longer have to search through the plethora of websites to find what they want.

iPrice helps to list out the top 10 Wacom products when you search for Wacom in their site, according to pricing from high to low, as well as where it is in store at. They conveniently place the most popular item from the list to draw customer's attention as well as where is found cheapest at – Lazada.
Similar to Shopee as well as other e-commerce stores listed in this list, they bookshelf the products and line them up, showcasing a mess of items of Wacom pen tablets, Wacom stands and accessories like the different styluses of Wacom (Wacom Bamboo Fineline).
If you are not one to enjoy skimming through this dreary scene of items with red numbers that attract your wallets due to the price cuts, you are not alone. When given an innumerable amount of alternatives, our mind gets lazy to choose. In a study conducted by psychologists Mark Lepper and Sheena Iyengar it is found that when presented with six jam varieties, the customers were more likely to purchase one as compared to when they were offered 24 choices .

Additionally, upon searching for Wacom in iPrice, they seem to only provide mostly the Wacom Intuos series, as well as accessories for the tablets, if you were looking for their other lines of product like the Cintiq Pro family or Wacom MobileStudio Pro, you would be searching in the wrong place.

Nevertheless, the Wacom Intuos line is still one of the better preferred option when reaching for a pen tablet.
Check them out on their Facebook and Twitter.
Lazada is an online marketplace that shows the products rating right below the products listed, allowing customers to make an informed choice. They have a multitude of items all neatly categorised, they even seem to tailor the items that they think you need during this period of time of circuit breaker.

At a glance, searching for Wacom tablets on Lazada does give the buyer more options ranging from the One by Wacom, which is one of their older models , hence the cheaper price. If you were to look for something newer like the Cintiq Pro 16 and above, Lazada retails it almost at listed price.

Lazada is similar to Amazon, when you type 'hangers' into Amazon's search box, the mega-retailer delivers "over 200,000" options. On the first page of results, half are nearly identical velvet hangers, and most of the rest are nearly identical plastic. There isn't much variety in terms of price, and majority of the listings in the first few pages of results have hundreds or thousands of reviews that average out to ratings between four and five stars. Despite having very specific hanger needs and preferences, there's no obvious choice.

You can download the Lazada app on App Store, Google Play. Or follow them on Facebook and Twitter.
Carousell is a mobile classified app that makes selling as easy as taking a photo, buying as simple as chatting. They believe that changing the way we consume things, life can be more meaningful.

They are constantly proving themselves relevant in the rat race of the e-commerce marketplace, with the recent upgrade of using sub-categories to narrow down searches.

Lucas Ngoo, Carousell Co-Founder and CTO shares, "Carousellers love the thrill of selling an item quickly, or scoring a good find. With over 70 new listings added every minute, we need to constantly improve discovery for our users to get the most out of their carousell experience. Sub-categories make listings easier to find, so that users can sell their preloved items faster, and fill their lives with more meaningful things instead. We prioritise updates that improve the carousell experience for the majority of our users, and will continue to evolve this over time based on what our users need."

Looking for Wacom tablet on Carousell, usually entails finding Wacom tablets that have been used, of which the seller will indicate in the description on how the item fares and how long they may or may not used the item. As Carousell promotes active communication between the sellers and buyers, simplifying and improving how consumers buy, there are also protection measures. The Carousell Protection helps track the delivery with a valid tracking code, whether the item is received or if the item is faulty.

However, there are also limitations to Carousell Protection such as pre-ordered items, digital goods like game accounts, tickets/voucher and hotel bookings, the buyer's change of mind or items belong to Carousell's list of prohibited items.

If you do not have any problems with a second-hand item without warranty guarantee, Carousell is another avenue that you can check out to get a Wacom tablet.
They have a help centre to answer any burning questions that you may have. Read more about updates on their blog, follow them on their Facebook and Twitter.
Enjoy warranty and fuss-free return processes on over 50,000 brand new products from top brands like Apple, Hua Wei, Samsung, ASUS, Microsoft etc, when you get your products from Hachi.tech.
They actively promote their "Earn up to 1.5% ValueClub Rebate", which they explained that by joining the membership, you will earn faster to offset your next purchase with them.
When you shop with Hachi.tech , you either get it delivered or hit the $88 mark to get free delivery or do self-collection at convenient Challenger stores island-wide. Here is a list of the challenger stores for self-collection :
Do note that all Challenger stores will be closed from 7 April to 4 May 2020, in accordance to the Covid-19 restrictions.
They have a Telegram channel and Facebook page you can follow to keep updated. Get the app on App Store or Google Play.
We saved the best option for last!
Here's why you don't necessarily need to use Wacom for online learning :
Wacom tablets are mostly utilised for artistic uses. Wacom launched New Cintiq for emerging professionals, art students and enthusiasts on 1/8/2019. It was specifically designed for young creative professionals in architecture, planning, industrial designs or engineering.
Wacom apparently also tracks your use of the program and uploads it into Google Analytics. So Wacom isn't the best choice, especially if you care for your privacy rights.
Additionally, several Wacom models, such as the Intuos4 and Bamboo, were criticized for the drawing surface's roughness, wearing down the small pressure-sensitive 'nib' causing it to become slanted or scratchy in the same way as pencil lead, albeit more slowly. This results in the surface of the tablet to become smoother where it is used more, resulting in uneven slick and non-slick areas.
If you were looking for a tablet mainly for online learning, you can invest in a Ipad Pro or if you want an even better and budget-friendly solution, we have it right here – HeyHi.
We are an app that enhances your child's learning experience in an online classroom via a video call with interactive whiteboard. Available on any mobile device, we are widely inclusive. Download here for free on Google Play or App Store, to try it out.
Upon getting the app, you will be prompted to enter in your Name and Meeting ID to join the meeting, or simply scan the QR code provided to you by your child's teacher or tutor. If you head to our website, there is a pop-up chat box that enables users to contact us easily.
We take into consideration of any issues during this global pandemic and specially cater to you and your child's needs. A parent's review all the way from Canada sing praises for this app, saying it is even better than Zoom!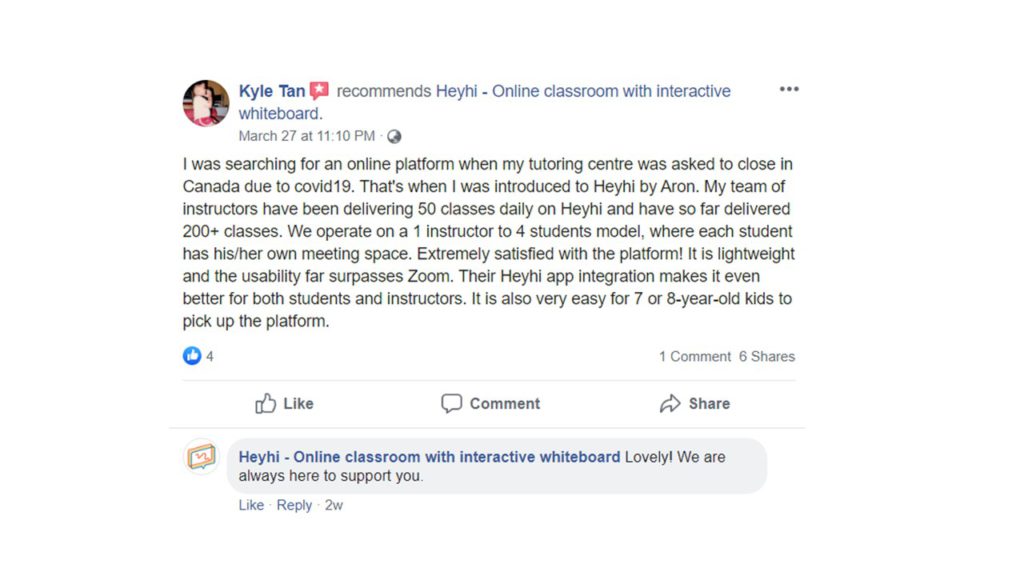 No doubt, as a local start-up, there are also local reviews that boosts our competency and credibility. A satisfied customer, Dominic Lim said that this app is 'godsend for private tutors during circuit breaker for private tuition.' To further elaborate on that, we have a newly released feature called Lecture+, it is a new meeting mode allowing a total of 12 participants. So it not only an improvement on the classic Classroom mode, as it allows more participants and it reduces noise and distractions from participants compared to classroom mode. This makes it effectively easier for tutors/teachers to hold lectures to their students, proving it to truly be godsent during this work-from-home period.
Here is a quick view of the types of meeting modes you can create :

You can also try a demo session with our specific consultants. Notice the ability to select the time zone, it offers worldwide time zones, so that wherever you are located, you have to chance to try our app. You can select a date and time 2 months in advance.
Other additional features that makes HeyHi uniquely stand out from the crowd is it's ability for teachers to mark student's attendance, making sure that students are responsibly taking charge of their learning. Also, collaborative features, including face to face video calling, voice call, screen sharing, instant messaging and live poll.
Unlike Wacom products that you need to splurge on, HeyHi offers promising and free deals to get your child's online education running without having to wait for the platform to ship over. Simply use your mobile phone as a writing tablet and you just saved hundreds of dollars. No stylus needed! Watch this video on how to get started in simple steps.
Check us out! Feel free to contact us via email or drop a call at (+65) 92994121. Alternatively you can leave an enquiry form here.