Adapt, improvise, overcome. A famous saying that has made rounds across the web in our unprecedented times of uncertainty and change, the Corona Virus pandemic has forced us to embrace change, improvise using new tools so that we can continue doing our best work. This has been a challenge for educators and students alike, as schools are forced to shut down and shift learning to online means. But e-learning, or home-based learning, has its difficulties as well. We educators are used to the physical classroom tools such as the whiteboard and projector, tools that allow us to illustrate concepts and flesh out the topic of the lesson we teach. However, moving to e-learning does not mean that we lose these tools. Luckily, we have a wide range of interactive whiteboards for teaching at our disposal, just waiting to be used. When assessing the suitability and determining which interactive whiteboard for teaching is best, we took into consideration its ability to encourage interactivity between tutor and student, ease of usage (user-friendliness), display interface and extra features.
About Ziteboard
Out of the many tools of online interactive whiteboard for teaching, Ziteboard is well known as a web-based interactive whiteboard that promotes live collaboration and shareable board management. The name Ziteboard comes from the merging of the words 'zoomable' and 'whiteboard'.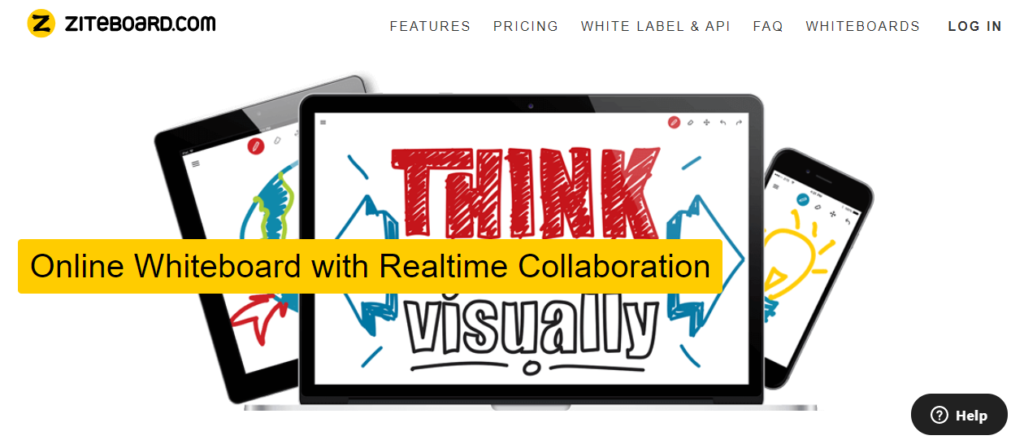 Image: source
The infinite space granted by Ziteboard means that to illustrate your multitude of ideas, all you need to do is to zoom out to get more space and extend the whiteboard. This is helpful for distanced education classes that require lots of collaborative space to present ideas, such as STEM subjects, creative mind mapping or artistic endeavours. Here is an example of a Ziteboard used to illustrate mathematical ideas.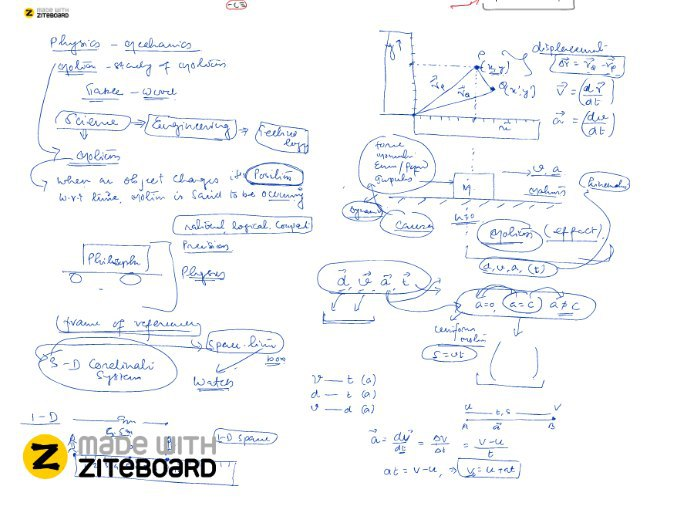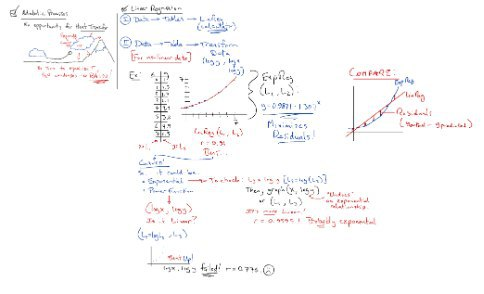 Image: source
Ziteboard's strength lies in its user-friendly interface that prizes simplicity and a smooth real time visual collaboration. This means that while Ziteboard can be used for distanced learning classes and private tutoring, it can also be used for workplace collaboration on projects, or casual collaborative projects with friends. It is an online interactive whiteboard that is versatile and not explicitly tailored for usage by educators.
An example of how Ziteboard can be used for online classes: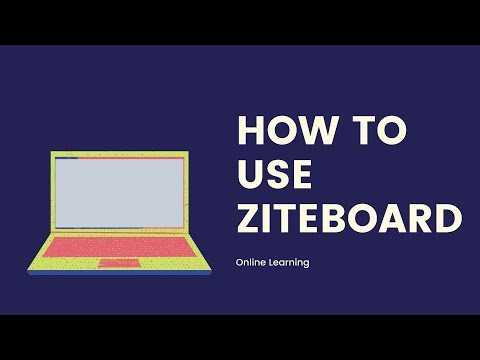 Free version of Ziteboard
The free version of Ziteboard allows for you to retain 3 boards with limited data traffic, a one-page PDF import onto the online whiteboard, no audio/video/text chat and only 3 basic colours to use. To unlock the fundamental features that would enhance the user experience to use the online interactive whiteboard for teaching, you would need to pay a monthly/yearly subscription for the pro version of Ziteboard. Without a premium subscription, the free plan severely restricts interaction between the tutor and student. If you wanted to present a PDF file on the Ziteboard whiteboard for teaching purposes, the one-page limit can be frustrating. The limited colours also restrict your ability to illustrate ideas, and the lack of audio or video conferencing tool on the free plan definitively reduces your ability to conduct an online class using the interactive whiteboard as a tool on one simple platform.
At first glance, Ziteboard appears to be the perfect solution to your need for a good online interactive whiteboard for teaching. It has the fundamental features of a good online whiteboard for teaching, features like PDF export and import, a tool for locking content on the board (such that it becomes neither selectable nor moveable on the virtual whiteboard) and video and audio chat capabilities. It also possesses a user-friendly display interface where interaction can take place. However, the features that you really need to conduct a conducive online class lies behind a premium plan, and there are other features in a Ziteboard alternative that will arguably boost your online class.
Ziteboard Alternative to Interactive Whiteboard
We have a Ziteboard alternative to suit your online interactive whiteboard for teaching, an online whiteboard platform that surpasses Ziteboard in terms of features, user-friendliness, intuitiveness of usage, interactivity between tutor-student and display interface. So, if you're looking for a credible Ziteboard alternative, an online interactive whiteboard for teaching, look no further!
Introducing Heyhi, the power-packed online interactive whiteboard that is ideal for home-based learning, distanced education or private tutoring usage.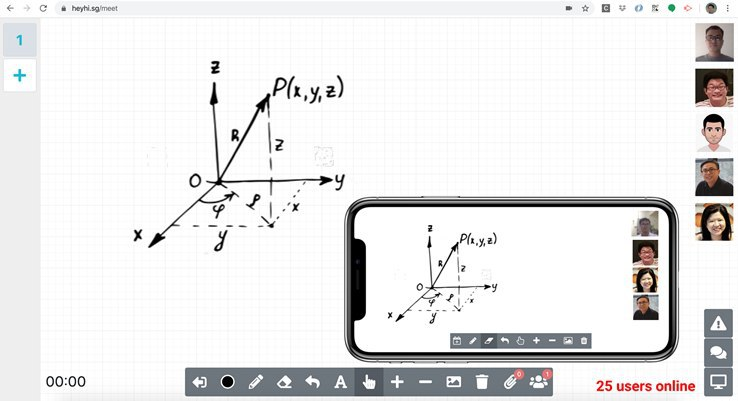 Image: source
Heyhi aims to empower online learning for students of all ages, with a whiteboard that wields all the fundamental tools of a good interactive online whiteboard application. Customizable tools like pen and highlighter, different colours to work with, tabs for multiple pages and image/PDF upload features, Heyhi has it all. They Heyhi whiteboard works on any device, whether it be your laptop, tablet, or mobile device, on most operating systems. To streamline the login process, Heyhi has has made it user-friendly and easy to set up. Simply generate a code for your students and send it to them via your preferred messaging platform. Once they tap/click on the link, they will be redirected to the online interactive whiteboard where lessons and discussions can take place. They simply key in the access code that you provide, and they are ready to start the lesson! The access code is a unique and private code for each session, preserving the privacy of the class session and ensuring that only the tutor and students get access to the class. With the recent cases of Zoombombing and unwanted intruders in video conferencing applications both in Singapore and around the world, we need to be aware of security settings and privacy, even in education. Here is a short video detailing the easy login process.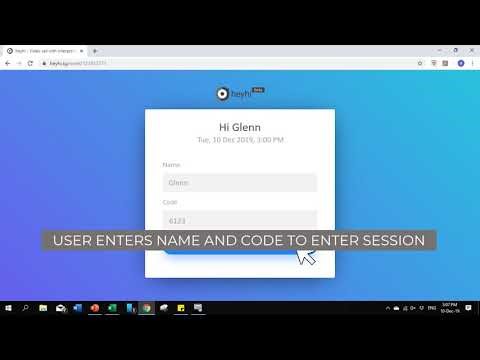 After login, Heyhi also has an attendance tracking feature that automatically logs the name of students and the time they come for online class, the number of exits they have, as well as the duration of time they were on the page. We understand that attendance taking and monitoring of students is a pain point that educators may have when it comes to online classes. Moreover, with a virtual presence, students may very likely get distracted, or exit the online whiteboard page for other reasons. The automatic attendance tracking feature saves precious class time and reduces the need for educators to constantly monitor and keep track of students. By using the automatic attendance check feature, tutors can easily follow up on inattentive students, or students that face technical difficulties by reaching out to them.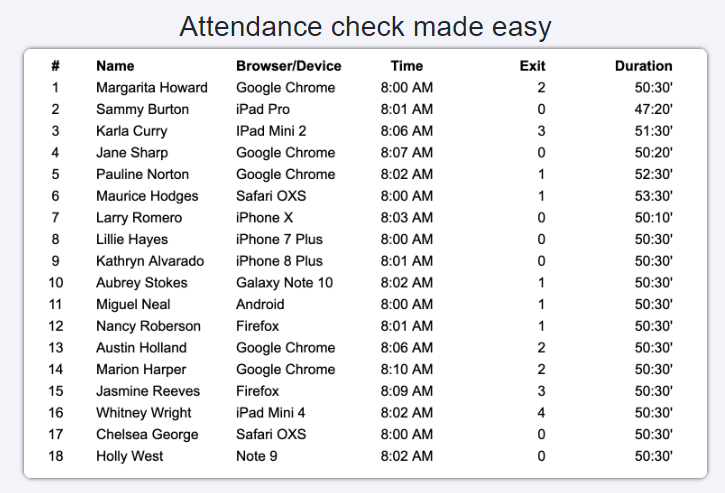 The online whiteboard is created with interaction in mind – tutors and students can both use the online whiteboard to answer or raise questions, draw diagrams, or write down their thoughts. Just like how you would use a physical whiteboard for interactive teaching, Heyhi models that intuitiveness and display. There are intuitive controls for colours, a pen icon to indicate writing, and an eraser icon to indicate the tool that allows for erasing of your writing. Unlike Ziteboard, Heyhi has 11 different colours for the tutor and students to choose from under the pen icon. With the multi coloured pens to choose from, a good tutor can classify ideas and illustrate linkage to make learning more engaging and interesting, especially when students are faced with only a screen to learn from. You can be sure that Heyhi's online interactive whiteboard for teaching is a great Ziteboard alternative, a platform that can be utilised to great effect in online classes. On top of all that, Heyhi also has toggles on the bottom panel for text, shapes, picture/PDF uploads, screenshot button, a search function, options for multiple pages/boards on the top left corner and video/audio conferencing options on the bottom right corner. If you teach better using visuals to engage your students, the uploading of pictures and full PDFs is an appealing feature. Screenshot your work for easy access later, and if you have a whiteboard that is full of ideas and notes, simply add more pages and toggle between them to find the one line you're looking for – or use the search function. Intuitive and interactive, indeed!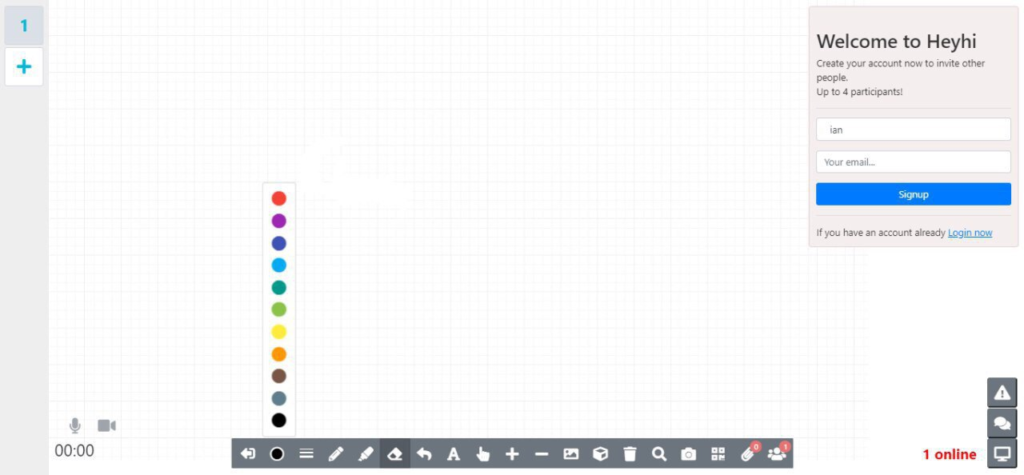 If students are logged into the online interactive whiteboard on Heyhi on their computers and desire to use their fingers to write on their phones/tablets instead, there is also an option for opening the whiteboard on two devices. Doing so reduces the need for students to purchase expensive styluses or writing tablets, as students can easily use their fingers to draw or write on their touchscreen devices. The set-up process is also simple and smooth. All they have to do is scan a QR code that opens up the same online whiteboard. From there, all they have to do is interact with the online whiteboard, and the content they produce will immediately be shown in the shared main board.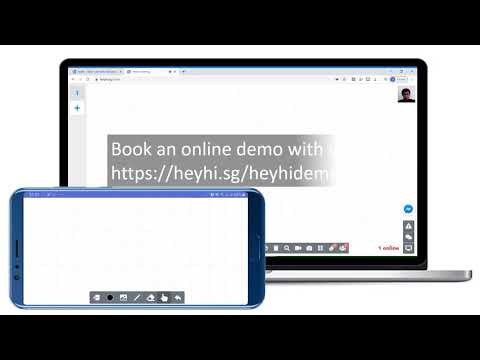 To take it a step further, Heyhi's instant messaging, upload function, screen sharing, and audio and video real time conferencing feature integrates one's senses into one comprehensive online interactive whiteboard for teaching platform. The online whiteboard, used in tandem with the video conferencing feature, enhances the interaction between tutor and student, as both parties can now see each other and tackle learning content together. What if you already have a preferred existing video conferencing application? Heyhi can also be used in tandem with those. If desired, Heyhi's interactive online whiteboard can also be used with Zoom. Simply screenshare using your video conferencing application and get started. With the shared screen feature, tutors can display the learning material and explain it in real time, as students watch their screens. Students can also upload their work done by inserting images or files containing their homework, completed assignments or learning material onto the whiteboard. With the efficient separation of working space via the tabs on the top left of the page, Heyhi's whiteboard allows a clean online whiteboard space for teaching and learning.
Here is an example of how a child can use Heyhi's online whiteboard for class.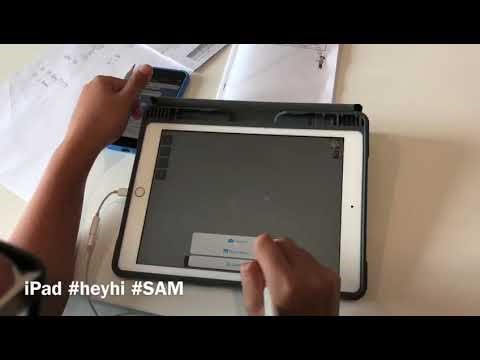 In comparison to Ziteboard, which only allows for the locking of certain content, Heyhi has a feature for the complete screen lock for selected participants. With much content on the screen and multiple pages, locking of content one by one can be frustrating. Heyhi's screen lock feature allows the tutor to completely freeze any interaction on the whiteboard, such that the students are compelled to listen without the ability to scribble or add new content onto the board, a useful tool when dealing with younger children. The screen lock prevents playful fingers from erasing all the content on the board or disrupting lessons by scribbling during lecture times. While we value interaction, controls help prevent unintended interaction from taking place.
To cater to educators who take a more lecture-style approach to teaching, Heyhi also has a new feature, a meeting mode called Lecture+. The meeting mode allows you to have a meeting with up to 12 users, including the host, where the video-conferencing layout is tailored specifically for a lecture style setting. Participants in the Lecture+ conference will be able to see and hear the tutor, but unable to see and hear other participants. These results in the lowered noise levels, higher privacy levels and also reduced opportunities for distractions by students, as the attention will be directed towards the lecturer. If you are an educator that relies on lecture-style teaching, the Lecture+ feature is a tool that you cannot miss.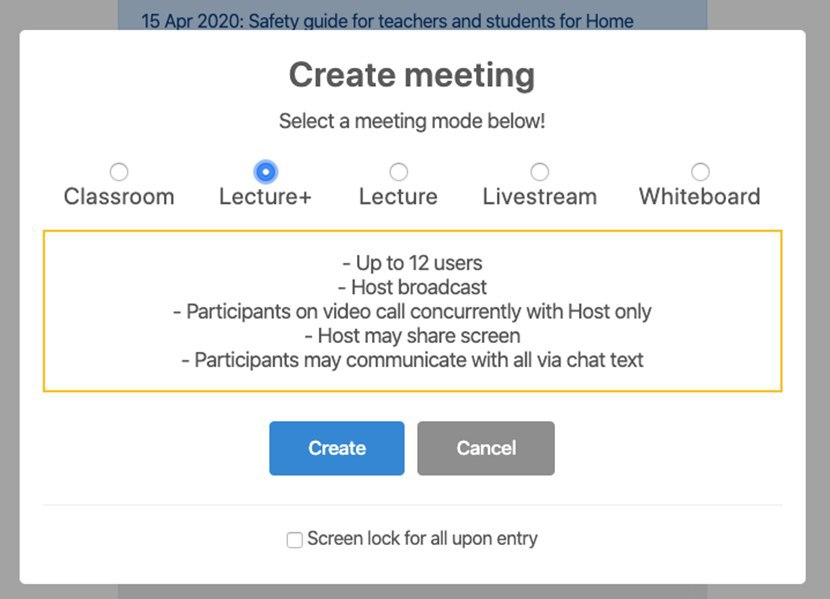 With these features, you can understand why Heyhi is the best interactive online whiteboard for teaching. More than just a good Ziteboard alternative, Heyhi packs a punch with its wide array of features and intuitive layout. We offer free usage till 15 June 2020, in line with Singapore's extended Circuit Breaker. Book a demo with us or check us out today!