HeyHi is proud to announce that we are now an official AWS Partner after successfully completing the Foundational Technical Review (FTR) and has been recognised as an "AWS Qualified Software Partner" and a member of the AWS Public Sector Partner program which demonstrates our expertise in the Education sector.
Singapore, August 02, 2023 — HeyHi, an AI-enabled assessment & personalised learning system with a collaborative learning space, today announced it is now an official partner in the Amazon Web Services (AWS) Partner Network (APN), marking HeyHi to meet AWS best practices in terms of Security, Reliability and Scalability. Known for a unique AI-powered and personalised learning system that empowers educators to teach and personalise education efficiently and seamlessly, HeyHi now joins a global diverse community of AWS Partners that leverage programs, expertise, and resources to build, market, and sell digital-forward customer offerings.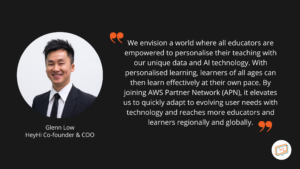 "We envision a world where all educators are empowered to personalise their teaching with our unique data and AI technology. With personalised learning, learners of all ages can then learn effectively at their own pace," said Glenn Low, Co-founder & COO, HeyHi. "By joining AWS Partner Network (APN), it elevates us to quickly adapt to evolving user needs with technology and reaches more educators and learners regionally and globally." 
HeyHi offers two unique features to education customers namely HeyHi Assessment and HeyHi Collaboration. HeyHi Assessment is a holistic e-assessment and diagnostic solution that can ease assessment designing, identify learning gaps, and assist educators in personalising education to each learner's learning needs. HeyHi Collaboration, on the other hand, is a one-stop solution to combat online environment learning barriers by involving integrated video conferencing and an interactive online whiteboard that engage learners for real-time collaboration and synergistic teaching tools for educators such as ease of drag-drop file access and live interaction via intuitive writing tools. Both features are specially designed and built to support online, on-site, and hybrid settings for educators and learners.  
By being a part of AWS Partner Network's extensive dynamic community and having our solution validated through the AWS Foundational Technical Review, HeyHi will continue to magnify opportunities to enhance the borderless learning journey for many more educators and learners.
To find out more about HeyHi go here.

About HeyHi
HeyHi is a unique AI-enabled assessment and personalised learning system that empowers educators to teach and personalise education efficiently and seamlessly in a highly collaborative learning environment. HeyHi offers detailed analysis to educators by quickly identifying learner weaknesses and learning gaps down to a granular level with AI-recommended adaptive worksheets. We also empower educator and learner by providing an interactive digital whiteboard tool that mimics real-life classroom experience. With versatile teaching options for live and self-paced instructions in online, on-site, and hybrid settings, we enhance learners' potentials and borderless learning. Learn more at https://www.heyhi.sg.