Worldwide, the tuition industry is valued at over US$100 billion and is still projected to grow by an additional US$112.7 billion by 2025. In Singapore alone, the tuition industry is worth over USD$1 billion tuition. As Covid-19 forces tuition centres to shift their operations online, some increasingly view these developments as opportunities to tap global markets. With online tuition, tutors can potentially mentor students from anywhere in the world. Now, everyone wants to claim their share of the pie and start giving online tuition.
On the other end of the spectrum, students have also stepped forward to provide online tuition to students from underprivileged families. In light of the prolonged fight against Covid-19, some of these programmes have been extended until the end of the current school year in November.
Online tuition is here to stay for the foreseeable future. Whether you are seeking to provide online tuition on an hourly or voluntary basis, you may be wondering how does one offer online tuition? Where do you begin? What do you need to conduct lessons online?
This article will cover the following:
Find tutees
Develop a system to manage online tuition sessions
Select a safe and secure video conferencing application
Utilise an interactive online whiteboard for tutoring
Accumulate reviews to bolster your credibility as an online tutor
1. Find tutees
Searching for the first tutee is always the hardest. You have no track record, no testimonials, and no relevant experiences. All you have are school transcripts that demonstrate your academic performance.
Most of us are well aware that good grades do not necessarily translate into an effective teaching style. However, just because it is difficult does not mean you should not try to break into the tuition industry.
Here are some channels and fuss-free strategies that you may consider to score your first tutee online:
Online job boards such as Gumtree, TutorConnect, SmileTutor, and iMath.
Word-of-mouth. Encourage your relatives and friends to help spread the word that you are working as a tutor. You would be surprised by how effective this tactic may turn out to be!
Social media. If you are on a budget, ask your friends for help to repost your advertisements on their instastories.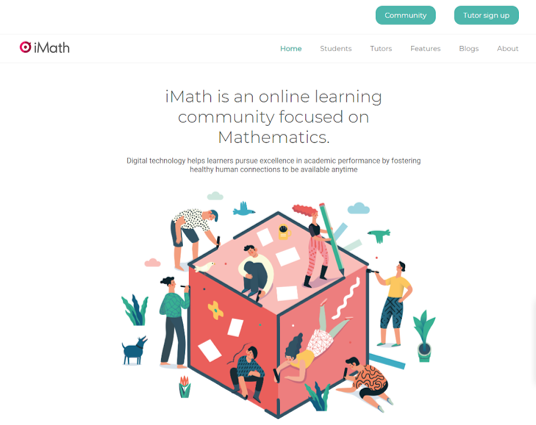 2. Develop a system to manage online tuition sessions
As your business expands over time with more tutees, you may find yourself overwhelmed. Online tuition can happen anywhere and across time zones. A tutee may also request for a higher frequency of online lessons closer to an upcoming test or examination.
To de-conflict online tuition classes, as well as to allow your tutees to check your availability, you may want to consider the following online scheduling tools:
The calendaring system on HeyHi's dashboard enables you to declare your availability and customise a link for your tutees to book an online tutoring session.
Once you have updated your availability, you can share your link with your tutees and have them book tutoring slots with you. You will also receive an email notification whenever a tutee books a time slot for online tuition.
This system saves you the trouble of liaising with your tutees and having to constantly update your calendar. HeyHi handles all of the scheduling for you!
3. Select a safe and secure video conferencing application
When Singaporean students first transitioned to home-based learning, 13-year-old students in an online class were targeted by hackers who exposed them to obscene images. This incident reveals how important security features are for video conferencing platforms that facilitate online tuition.
To allay parents' concern, online tuition should be conducted on a safe and secure platform. Tutors are encouraged to set passwords and exercise vigilance by tracking the participants of an online class.
Fortunately, HeyHi also enables tutors to set up password-protected video conferences. When a tutee reserves an online tuition session with you (see step 2), HeyHi generates a meeting ID and an access code. Unless the tutor shares the assigned QR code, all participants must enter the meeting ID and access code before they can join the online session. This security function cannot be switched off.
4. Utilise an interactive online whiteboard for tutoring
We have covered where you can find students to tutor as well as how you can use HeyHi to schedule and host video conferences. But wait, there's more!
HeyHi's main feature is an interactive online whiteboard that enables both tutor and tutees to share worked solutions, annotate on imported materials, and draw mind maps. HeyHi's online whiteboard can help you to illustrate concepts, and provide feedback on your tutee's work without having to leave the platform!
With an expandable whiteboard space, you will never have to worry about running out of empty spaces to scribble notes and annotations. This online whiteboard feature minimises disruptions and thus creates a more conducive learning environment.
5. Accumulate reviews to bolster your credibility as an online tutor
Finally, once you have secured your first few tutees, you may consider asking them to write reviews for you. You can then include these reviews in your portfolio to pitch for new tutees. If the tutees are comfortable with it, you may even ask them to introduce their friends to your online tuition services through social media!
Summary
Alright, we have walked you through the steps for how to start giving online tuition:
Find tutees
Develop a system to manage online tuition sessions
Select a safe and secure video conferencing application
Utilise an interactive online whiteboard for tutoring
Accumulate reviews to bolster your credibility as an online tutor
Since tutees are likely to return to you for subsequent online tutoring sessions, Steps 2 to 4 should constitute the main bulk of what you will be doing as an online tutor. Fortunately, HeyHi is an integrated platform that can help you with these steps! With HeyHi, you will no longer have to fret over scheduling, hosting video conferences, or using an online whiteboard to write and share written notes.
If you are keen to know more about how HeyHi can help you to jump-start your online tuition business, you may request a demo or experience the user-interface for yourself!