The demand for online platforms has surged during the Circuit Breaker. Stuck at home, teachers and students alike are looking out for interactive and collaborative platforms to continue normal class activities from home. With that, applications offering whiteboard functions or allow for group discussions are being explored. These applications help online classes fit the familiar classroom structure for teaching and learning during these changing times. One popular option is the name-brand Microsoft Whiteboard. With teachers' incoming reviews regarding its few features compared to its competitors and the hassle of having to sign up using a Microsoft account; similar alternatives are being sought. If you face this problem, there are many options aside from name-brand companies; you are spoilt for choice in this market!
As such, here are 5 effective whiteboard alternatives you may not have heard of but could use during the extended Lockdowns/Circuit Breaker.
1. Miro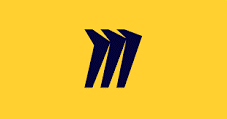 Image: Source
Miro is one highly acclaimed whiteboard application you can try out. With its impressive reviews, Miro specialises in this field of whiteboard applications and has 5 million users worldwide. As an interactive online whiteboard, it has video or chat functions and multiple users can edit the same whiteboard at the same time, allowing for maximum interaction and collaboration.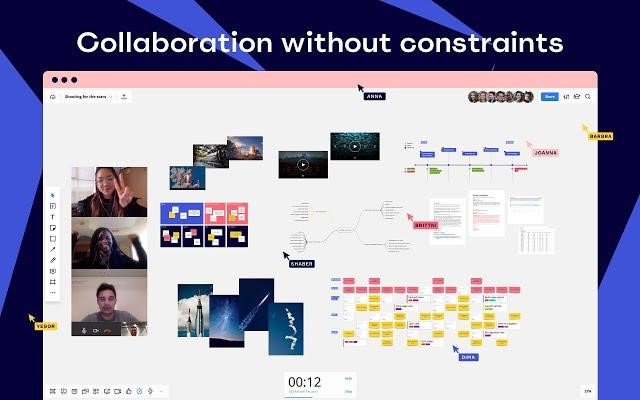 Image: Source
Something fun about Miro is that on top of your normal whiteboard pen function, it offers a sticky note function for any comments or questions anyone may have, an array of templates and various shapes, images or arrows you can edit onto the board. It even has a Smart Drawing function that if enabled, can transform freehand drawn shape or lines into neat shapes or arrows to create a clean, aesthetic board for the whole class. Miro's chic designs and colourful design will definitely bring life into the class experience and students will enjoy the number of tools available to them. It also has a Presentation function which you or your students can use – you can edit different frames on Miro itself and present it just like a PowerPoint presentation! And whiteboards can be saved as a PDF for future reference if your class would like to use it for notes.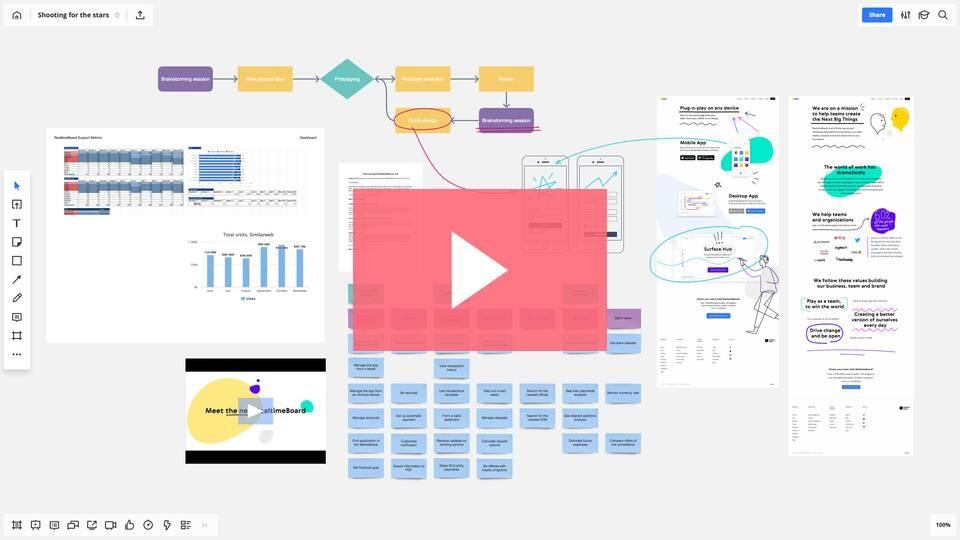 Check out their introduction video!
Its engaging visuals and interactive, intuitive features are bound to be a hit in your classroom. Unfortunately, with these amazing features, Miro only allows for a maximum of 25 participants per video call even if it allows for unlimited team members on the whiteboard itself in their free package. This limits its interactiveness. While this may work for small tuition classes, your average school classes often exceed 25 and may not be able to utilise this creatively constructed application. Furthermore, it can get costly if you require more features overtime which may not be ideal for students lest the school or organisation pays for all users.
2. TutorRoom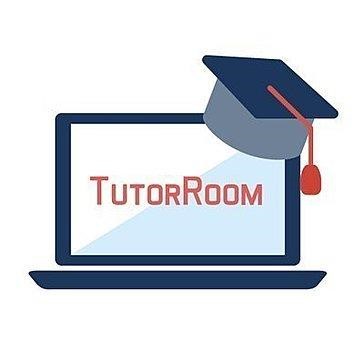 Image: Source
Next, we have TutorRoom, a top-rated online classroom application which comes with the whiteboard feature you are seeking. The benefit of using TutorRoom is that it is made specifically for online classes. As such, on top of its basic, easy-to-use whiteboard, chat and video call functions it also provides you the opportunity to schedule classes or create online courses using PDFs or PowerPoint. This will help students to remember their online classes which they may forget to attend from home while providing them with an interactive learning experience.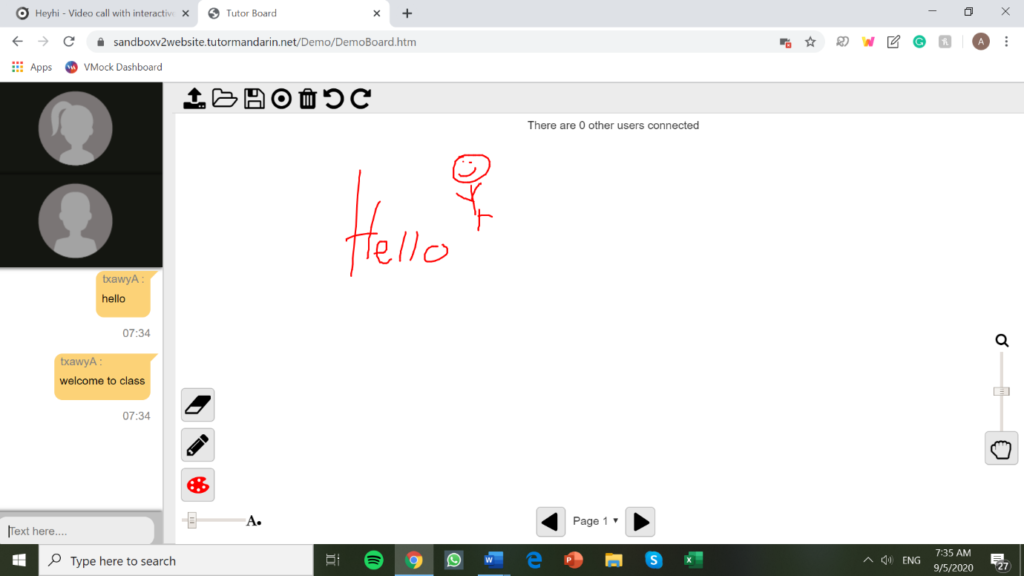 Image: Source
This application is something to consider purchasing, especially if you run a tuition business. The additional features which help centralise an online learning space are the main claim of TutorRoom and are bound to be helpful in planning classes.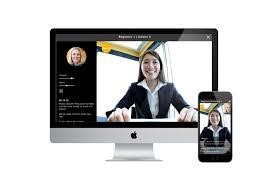 Image: Source
Do note that its whiteboard feature is not as collaborative as many of the options listed here and is mostly known to be a simple online whiteboard for teachers to use, rather than for the whole class to edit together. Furthermore, it may get costly and some reviews consider it slow at times or even "outdated" in design. Despite this, overall, TutorRoom does still continue to provide unique high quality, customizable functions to suit your online class style and can be best utilised if you are the central lesson planner during the Circuit Breaker.
3. Zoom

Image: Source
Now, here is something more familiar to everyone, regardless of where you are in the world. Zoom has been the go-to application used to conduct meetings or classes; its main perks being that it is free and usable on any device. While many are aware of its basic functions like video conferencing, screen-sharing or chat rooms, it also boasts a whiteboard function which can help you facilitate classes better.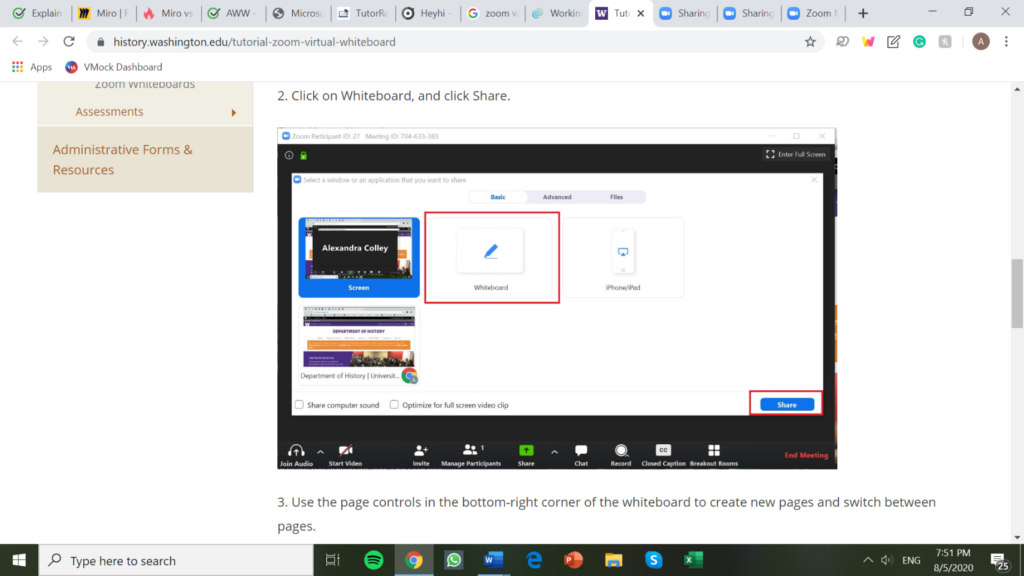 Image: Source
Zoom's whiteboard can be found under the Share Screen function so everyone in your meeting can view it. It comes equipped with annotation tools which allow your students to see what you write or edit in real-time, making learning more engaging and interactive for them as compared to simply reading off slides. On top of this, your students will be able to have fun editing the whiteboard as well so long as the Participants Annotation function is enabled, reminiscent of the physical classroom experience.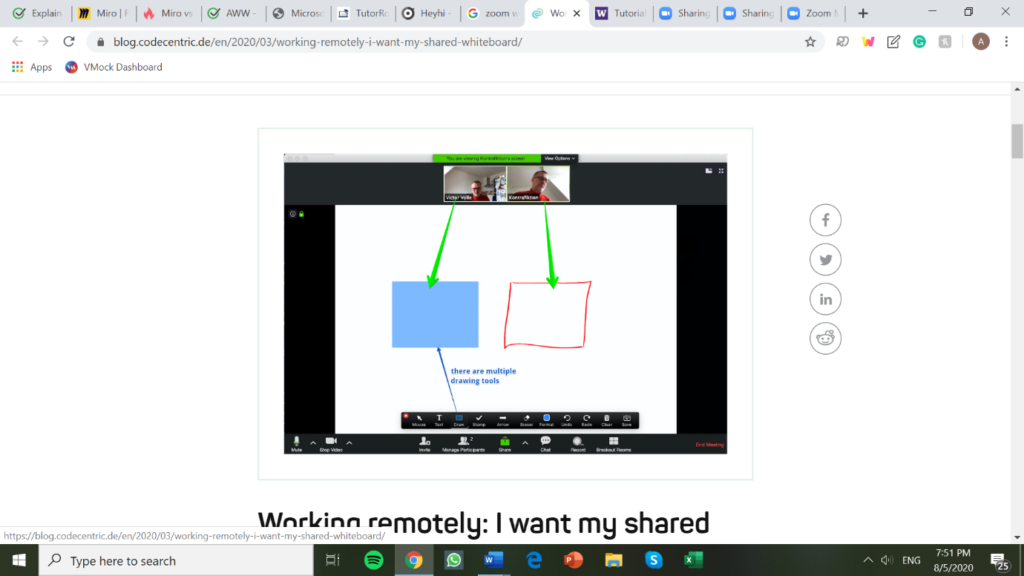 Image: Source
Zoom also makes student presentations easier. It can accommodate multiple shared screens if you enable simultaneous screen sharing and dual monitors. This way, the class can refer to any information on your board while following what their classmate may be presenting after a breakout room discussion, for example.
Clearly, Zoom has established itself as suitable for collaborative learning. It has its own limitations such as how only the meeting host has control over the whiteboard pages, drawings do not appear smoothly and that without a paid plan, Zoom meetings can only run for 40 minutes at a time which may be disruptive to classes if you have to constantly create new meetings. However, no doubt Zoom's familiarity continues to give it an advantage over the other options even with its limitations in mind.
4. Aww (A Web Whiteboard)

Image: Source
Simple and adaptable to your needs, AWW has got your class covered. It has an uncomplicated layout with your usual basic whiteboard functions like a pen, text boxes and highlighters; images/PDFs/PowerPoints can also be uploaded to attach on the board. If you enable the sharing function, students can edit the board via a link you send them in real-time and you have control over who you allow onto the board, too!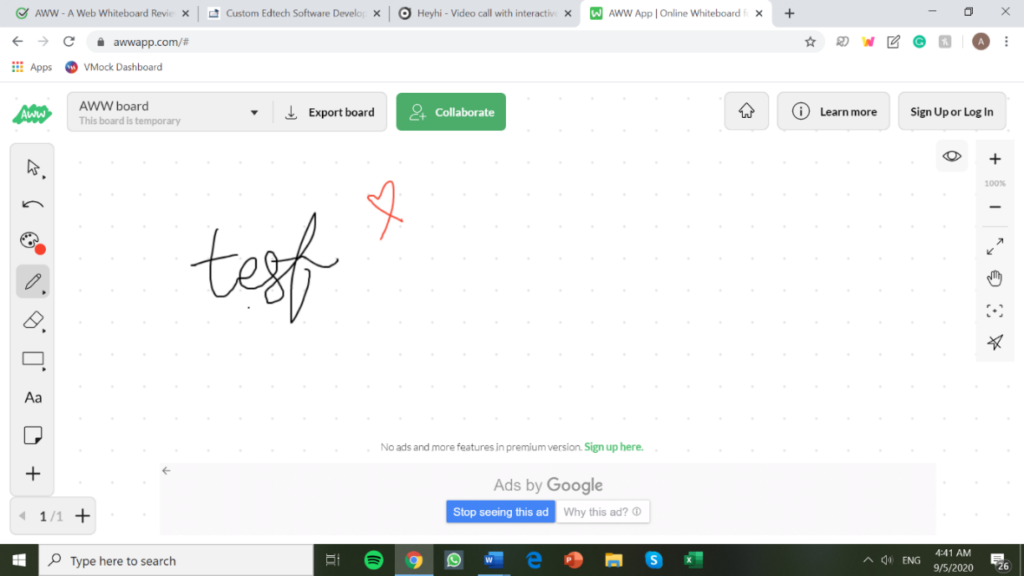 Image: Source
Something AWW takes pride in is that quieter students are given the chance to remain anonymous (by use of nickname) on AWW if they feel scared to speak up. They may draw or leave comments/questions on the shared class board for everyone to see without fear. This way, AWW ensures all students have the chance to participate in the learning process in the way best suited to their learning style and personalities. AWW on its own is, no doubt, one of the easiest boards to navigate which will make collaboration easier. It even allows for unlimited participants so long as they have the same link!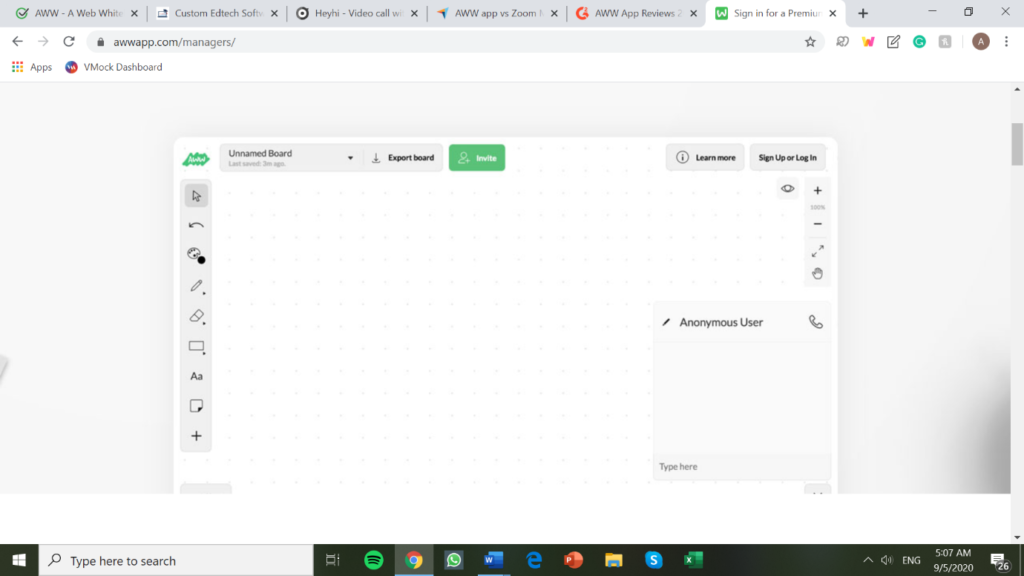 Image: Source
One key thing you will need to consider, however, is its limitations. Firstly, without a subscription payment, you will not be able to save your whiteboard on AWW, making it more like a basic classroom whiteboard rather than one for making collaborative notes for students to keep. Secondly, you are likely to want an application with a built-in video function which allows for hassle-free interaction with your class while you edit the whiteboard together. However, AWW requires each participant to have a paid subscription before you use their in-built conferencing tool. If you prefer to see your students face-to-face, AWW encourages you to link your board to Skype (although using the aforementioned Zoom is possible too). Creating so many accounts may become a hassle and over time, AWW usage may be expensive, considering its own limited collaborative functions, but its simple interface does remain hard to rival.
5. HeyHi

Image: Source
Finally, we have our application, HeyHi, which provides you with the full video conference and online collaborative whiteboard experience. We have the familiar chat and screen sharing functions, allowing students to respond to what is taught immediately without interrupting your lesson flow. HeyHi is especially good for students as they do not require membership to join and thus, can attend online classes just by clicking a link.
For the whiteboard specifically, we have very useful lesson recording and whiteboard saving functions. This will allow for further class participation as students can revisit the class as and when they like if they could not understand the concepts taught straight away. This is a clear step up from other applications which allow for you to save your edited whiteboard but have no in-built programme to record webcasts. You are even treated to an unlimited whiteboard canvas which lets you write as much as you want and the ability to utilise multiple screens to avoid confusion! This whiteboard design has been praised for being intuitive with amazing drawing tools for collaborative editing which, together with our simple classroom features at no extra cost on students, creates the best interactive and collaborative online classroom experience. Students will also enjoy utilising the unique QR code function: by scanning a QR code for their specific classroom, they can link their phones and use them for writing extra notes too!
You can customize your settings beforehand by contacting HeyHi to suit your class. As such, rather than having to constantly test out suitable whiteboard alternatives, HeyHi allows you to make your own changes for a fully personalized experience. Speaking of customization, HeyHi offers a screenlock option for times when you do not require your students to edit the whiteboard to ensure a focused class experience online.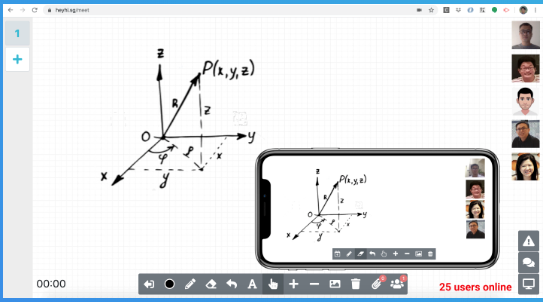 Image: Source
On top of the whiteboard function, something which sets us apart from our competition is the attendance check using the all-new Lecture+ feature (see below). For teachers, this can be extremely helpful for tracking who is attending class and when they do at a glance, much like you would do in the real classroom. This helps maintain discipline during home-based learning. Lecture+ is also particularly useful as it creates a possible different learning option whereby participants do not interact with each other and can only see their teacher who locks students' screens when needed. This innovation ensures that your students stay focused with less noise and distractions from each other while you monitor them, a unique offering from HeyHi amidst our competition.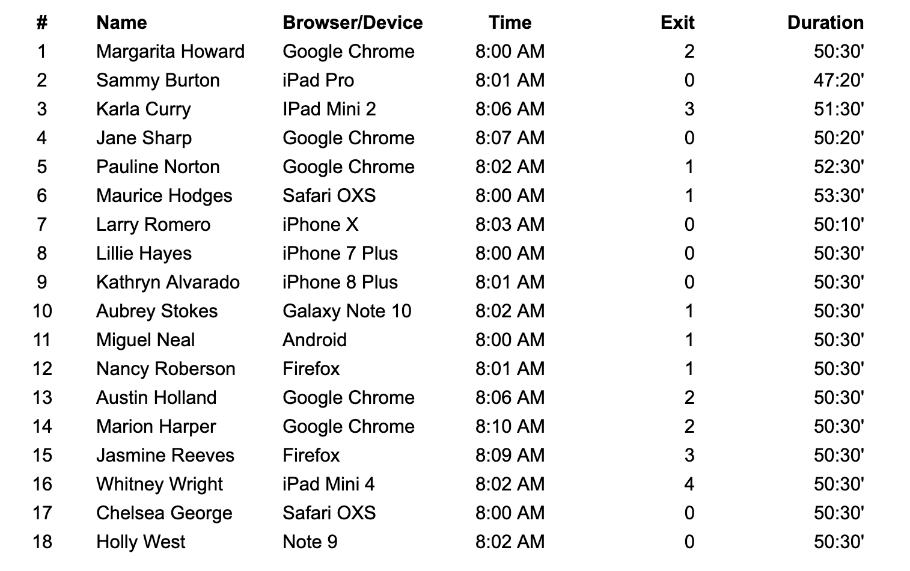 Image: Source
HeyHi may be faced with limitations, including its 50 maximum participants per virtual classroom but we have purposely capped the number of students on this collaborative whiteboard platform with student learning in mind. This allows you to keep an eye on each student without leaving any of them out, making HeyHi an application that truly cares about the effective education experience while also leaving leeway for larger classes. Furthermore, if the video conferencing tools are not to your taste, HeyHi allows you to use its whiteboard in tandem with other video applications such as Zoom, making it a great option if you are only hoping to use it as a whiteboard alternative!
Conclusion
To wrap up, with technology improving every day, there are countless competitors in the online whiteboard market as alternatives to Microsoft Whiteboard. And during this lockdown, these alternatives have never become more important to the education industry to conduct classes as effectively as possible, albeit online. Given the strengths of every application, we hope you consider us at HeyHi, with a clear focus on education and intentions to improve the learning experience. Besides, HeyHi is offering FREE usage till the end of May 2020 to cater to all educators during this Circuit Breaker so why not make the most of this and give it a try? We provide all the familiar functions and more so let's work together to get learning across in the best way during this season!