BlueTree Education or "BlueTree" is a Singaporean teaching centre founded by two former MOE teachers Jolene and Faith with over 30 years of experience altogether. Both co-founders are specialists in the Gifted Education Programme and provide various academic programmes namely English, Math, Science and Chinese, for both primary and secondary levels. Their weekly curriculum consists of advanced critical thinking and problem solving skills.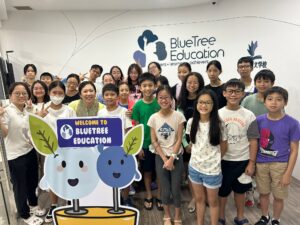 Started humbly as a traditional physical classroom, they have eventually embraced digitalisation, overcame the pandemic disruption and landed many successes beyond Singapore, with presence in Hong Kong and Vietnam.

About 2 years ago, Covid-19 wreaked havoc, disrupting the physical classroom fashion that had been carried out for decades if not centuries. BlueTree also found itself on the same boat, drifting with no clear indication on resumption. In response to this unprecedented challenge, governments across the globe began to advocate for the integration of technology into the educational landscape. Upon realising the urgency to adapt, BlueTree reacted quickly in team for this digital implementation. That said, it was not a smooth transition for BlueTree as all teachers were used to teaching in a physical setup with hardcopy assignments and direct interaction. 
"Generally the resistance is there, teachers don't like to use it, they don't find it easy", Jolene responded.
Additionally, they were not tech-savvy enough to make a radical change in such a short time, thus they were in need of assistance in how to teach, assess and communicate virtually. While children were very excited for the new learning experience, parents were anxious and sceptical of its credibility.
In 2019, Glenn, the co-founder of HeyHi, approached BlueTree, offering the integration of e-assessment into the traditional teaching sparked the entire digitalisation of this teaching centre. 
"I thought the idea was good that they focus on e-assessment," Jolene continued.

Since then, BlueTree has never looked back and is reaping the success of digitalisation.
They are not only delivering lessons virtually, but are also digitally assigning quizzes and worksheets, marking the assignments, monitoring students' progress, offering self-paced learning programmes, conducting Science experiments and has even organised Singapore Math Immersion Programme with over 200 students from Vietnam joining digitally. 
The feature they love most about digitalisation is the e-assessment tool, enabling them to gain in-depth knowledge of the students' progress. With all work being assigned through HeyHi's platform, assignments are auto-marked and an overview performance report is instantly generated.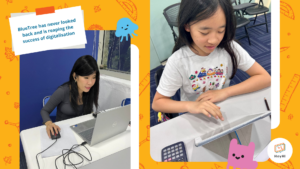 An inaugural Maths challenge has also been conducted via the HeyHi platform with one of their Vietnam partners, garnering participation from over 100 students. BlueTree was able to assess the children fairly, safely and in the most exam-possible integrity manner since the questions are randomised. 
Apart from gaining knowledge of the academic trends in Vietnam, they also made surprising discoveries about students' behavioural and cultural traits. After witnessing the children's learning potential, an initial learner's profile is created. This data allows them to redesign and peg the curriculum more accurately and to strategise a more efficient market penetration. 
Previously, overseas market research can only be done in person, taking more than 2  months to assess the children. With digitalisation, things have been so much easier for BlueTree. They have the ability to scale and widen their reach locally and overseas, without being constrained by locations. Their class capacity for the older students have also increased without classroom space constraint. BlueTree currently has students in areas that they never thought about, like Egypt and UAE. And these are impossible if not for digitalisation. 
Plans are in the pipeline for Science and more overseas challenges, these are interesting and engaging activities for students and allow them to build a reputation for themselves. 
Another advantage that digitalisation brought to BlueTree is the flexibility and versatility. They are more well-prepared and well-equipped to handle unforeseen situations such as social distancing during Covid-19. BlueTree can react promptly and shift their physical lessons to online mode anytime, easily, avoiding disruption to their students' learning. 
The initial hard work on digitalising their years of hard work in content creation has paid off. With teaching materials stored securely on HeyHi, they can access their rich digital content library anytime from anywhere.

The landscape for education has evolved drastically, altering the way educators teach and how students learn. Usage of technology in education has increased rapidly with expectations higher than before.
HeyHi constantly enhances its features and system to provide educators with the best support via our powerful and intelligent E-assessment tools, customisable digital content library, together with HeyHi virtual classroom with video conferencing and collaborative whiteboard. We make it easy for educators to provide onsite and online teaching seamlessly, efficiently and effectively. 
BlueTree's perception on digitalisation has also evolved – from perceiving it as a myth pre-pandemic, to a norm during the pandemic and now, as a staple option going forward. Digitalisation has been such a great success for BlueTree and they now offer 3 lesson modes for students – fully online lesson, fully physical lesson and a hybrid of online-offline (blended learning) lessons. BlueTree has now become a forerunner in the digital learning space and are on digital social media spaces such as Facebook, Instagram and Tiktok, staying close and connected with the younger generations.